A last gasp penalty converted by Vladislavs Gutkovskis extended the fantastic run of form Rakow Czestochowa are on in what was an uninspiring affair. However, it kept Rakow top of the Ekstraklasa after 11 games. Rakow were clear favourites before the game, and lined up in an attacking 3-4-3 formation. Both wide centre backs liked to push up to overload wide areas, however final balls were often poor and clear cut chances were through and far between. Oskar Zawada's neat finish was disallowed in the 26th minute for offside after a VAR check, and an Ivi Lopez 1-on-1 was put wide in a relatively uneventful game. both teams struggled to find any sort of tempo, and no player really took a chance to impose themselves on the game. Warta Poznan attempted to counter in a 4-2-3-1 formation, but again struggled with quality of passes throughout the game. Daniel Bielica made a couple of saves in goal, but he was rarely troubled. on the face of it a draw was a fair result, however the 90th minute challenge inside the box was a clear penalty and was calmly slotted home by Gutkovskis.
Ratings
A1 – Very good, could play higher
A2 – Strong potential to play higher
B1 – Good, strong player at level
B2 – Potential to be strong player at level
C – Average for the level, rewatch
D – Below average in this match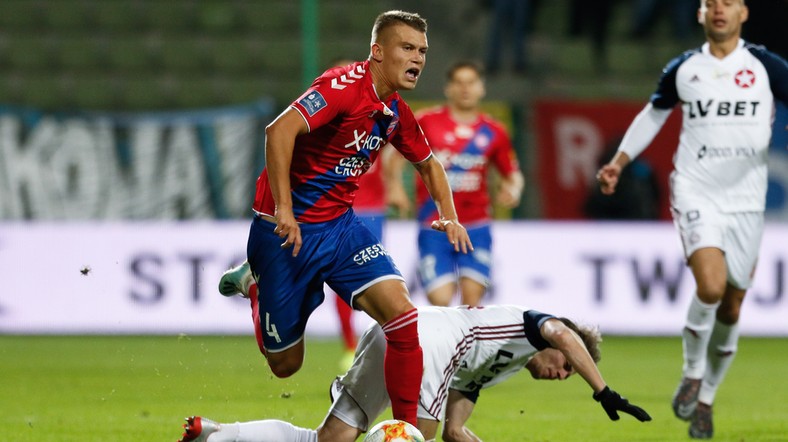 Nationality: Polish
Age: 20
Date of birth: 21/06/2000
Club: Rakow Czestochowa
Career: Rakow Czestochowa
Position: Centre Back
Preferred foot: Right
Piatkowski started at Right Centre Back in the back three of Rakow. He was almost certainly the standout player in the team. Rakow loved to play out the back, and as a consequence Piatkowski saw much of the ball, and himself alongside his other centre back partners of Niewulis and Schwarz saw the most of the ball in the whole Rakow team. His composure on the ball was excellent, with a good first touch he looked forward with the ball at all times. he often looked to lay passes out wide to his right midfielder Daniel Bartl. With a pass percentage of 87%, he was effective at passing for the majority of the match. He rarely looked to play long balls, instead most passes were simple and precise – although it is worth noting that Warta Poznan offered little in the forms of a direct press, and as a result he often had a lot of time on the ball.
His main attribute was arguably his forward play, which for a centre back was surprising to see. He looked very at ease with the ball at feet, and showed strong pace and acceleration stepping out of the line and making progressive dribbles. At times he looked to overlap on the right, and got himself into a couple of half spaces in forward areas, where unfortunately his strong attacking position was not utilised by his team-mates. In the run up the the goal disallowed by VAR, he showcased his attacking ability perfectly. He showed good pace dribbling forward, beating his man, then played a perfect ball to the winger who then whipped the ball in for the disallowed goal.
This eagerness that Piatkowski possesses can sometimes let him down however. He was sometimes caught too far out the line when attempting to press, and although he did win the ball on occasion he needs to show better decision making on when to press. His communication could have been better, especially in the air, when a couple of times he left the ball to bounce thinking a team-mate had it covered, when instead he should have gone for the ball. Aerial presence is certainly not his strong point, and although measuring in at 6'2″ he often misplaced his headers. His build was average, but he wasn't troubled physically throughout the game and showed good strength and aggression in duels, winning 83% of them over the course of the game.
Overall Piatkowski played very well, and showed good technical skills for a centre back, as well as generally sound defensive skills. I think he would suit teams playing 5 at the back, and would like to see him play at right wing-back where he can really start to utilise his attacking skills and raw pace. His attacking output has been similar throughout the season, with 2.04 progressive runs per 90 and 1.11 shots per 90 showing his eagerness to move forward and then put himself in attacking positions.
Rating – A2
Nationality: Slovenian
Age: 23
Date of birth: 16/07/1997
Club: Rakow Czestochowa
Career: Olimpija Ljubljana, NK Krka, Olimpija Ljubljana, ND Triglav, Rakow Czestochowa
Position: Centre Midfield
Preferred foot: Right
Tijanic struck a composed figure throughout the game, lining up in a centre midfield role. He liked to sit deep and spray passes wide, the majority being along the floor. He had 19 more passes than his midfield partner Poletanovic, which indicate that he was playing the more creative role within the pairing. His playstyle suited this almost perfectly. Tijanic was a brilliant dribbler on the ball throughout the match. He had a strong first touch which enabled him to take the ball under control with ease and have enough time to make an impactful play on the ball. His agility was really good, and showed good shifts of his body to turn defenders, accompanied with good initial acceleration to then beat the defender. The Slovenian also aimed lofted passes into the physical presence of Oskar Zawada, and although the passes were of good quality the Polish strike could not capitalise on Tijanic's quality of pass and vision.
Tijanic's main downfall came within his physicality. Although reasonably tall at 5'11", he had a slight frame which means he was often bullied on the ball. This can sometimes be compensated by good aggression, but he wasn't inclined to step into the 'dark arts' side of football. He rarely tracked back to defend, and although making a couple of interceptions he was absent in defensive aspects for much of the match. To become a more complete midfielder he would need to bulk himself up and put himself into more tackles, as well as increase his work rate. But, for the role his is playing for Rakow his lack of defensive ability was compensated by his partner.
Overall Tijanic was solid in the Rakow midfield, and had a very good natural dribbling style, with good rhythm to his passing. He lacked physicality and pace to prove a much of a danger to the Warta defence, but for a deep lying playmaker to sit back and spray passes throughout the match he served his purpose well. A good player, but decision making could be improved e.g. when to pass or when to dribble as he was caught on the ball at times. He found it hard to be influential, and with only 1 key pass to his name the whole game he needs to offer more to stand out. I also feel that this was definitely an off game for Tijanic. He averages 0.43 non-penalty goals per 90 and 0.21 assists per 90 in 847 minutes this season, showing that he can affect a game positively and on many occasions, so this game may be misrepresentative of his true skills.
Rating – B2
Nationality: Polish
Age: 24
Date of birth: 06/12/1995
Club: Rakow Czestochowa
Career: Korona Kielce, Rakow Czestochowa
Position: Right Wing
Preferred foot: Right
Cebula had been in fantastic form leading up to the game, with 3 goals and 5 assists to his name in 8 starts. Unfortunately against Warta he was quiet up to being replaced by Daniel Szelagowski in the 73rd minute. His main positive was his work rate. He was an extremely eager runner, with good pace of the mark and good stamina. His pressing was exceptional at times, often forcing Warta Poznan into negative passess where perhaps they would have progressed if not for Cebula.
In his attacking play he looked to drift wide and often switched wings with Ivi Lopez during the game. His movement was ok at times, but he struggled to get through balls played to him under control, which didn't enable him to make use of his positioning. He rarely dropped deep, and found it difficult to find half spaces during the game. Frequently he became frustrated and let his aggression and eagerness get the better of him in some tackles, which resulted in a yellow card in the 34th minute. He was lucky not to get sent off after another rash sliding challenge early in the second half.
He only manged to get 1 shot off in his spell on the pitch, which was wayward and off target. His delivery into the box wasn't great, and although a willing runner with the ball he struggled 1-on-1 with defenders. In this aspect he could have utilised better technical dribbling skills. Overall a disappointing game from the Pole. Although eager to press, he let his aggression get the better of him often and rarely found success in the attacking third. Again, similar to most of his team, this poor performance does not represent the player, as he has fantastic returns so far this season. He is a player to watch more of, and it is unfortunate he had a poor game.
Rating – C
Nationality: Polish
Age: 24
Date of birth: 01/02/1996
Club: Rakow Czestochowa
Career: Wolfsburg, FC Twente (L), Karlsruher SC, Wisla Plock, Arka Gdynia (L), Rakow Czestochowa
Position: Striker
Preferred foot: Right
Zawada cut an imposing figure leading the line for Rakow, but unfortunately had a very poor game before being substituted on the 54th minute. At 6'3″, he really needed good quality balls into the box to utilised his height to the best extent, but unfortunately the quality wasn't good. Apart from his neat touch to finish a goal which was eventually disallowed, he didn't pose a threat in the attacking third. He didn't look to drop back and collect the ball from the midfield and instead played off the last man, which proved ineffective as Zawada showed a lack of pace and acceleration.
The striker only managed 3 passes the whole game, which shows just how quiet he was on the ball. The pole needed to play to his strengths a lot better and utilise his physicality by holding defenders off and laying the ball off to advancing runners. It seemed that Rakow's game plan didn't suit his style of play, as they looked to play down the wings with balls along the floor, instead of balls lumped up to the striker which would have suited Zawada more. Overall he needs to improve his mobility if he is to stay at Rakow, as their style of play would suite a more complete striker rather than an out an out target man.
Rating – C