IK Start grabbed their second win of the season on matchday four of the OBOS-Ligaen. The home side lined up in a 3-4-3 formation against Skeid who played a very defensive 5-4-1. Start controlled most of the game but made it hard for themselves by letting Skeid get back in the match twice. In the second half, IK Start looked a lot more organized and barely gave anything away, winning 3-2.
Ratings:
A1 – Very good, could play higher
A2 – Strong potential to play higher
B1 – Good, strong player at level
B2 – Potential to be a strong player at level
C – Average for the level, rewatch
D – Below average in this match
Jonatan Braut Brunes
Player Profile:
Nationality: Norwegian
Age: 21
Date of birth: 07/08/2000
Current club: IK Start (On loan from Lillestrøm SK)
Career: Bryne FK, Sola FK (Loan), Florö SK, Lillestrøm, IK Start (Loan)
Position: Striker
Secondary Position: Attacking Midfield
Preferred foot: Both
With Jonatan Braut Brunes and Albert Tjaland (Byrne FK) Erling Haaland has two cousins playing in the OBOS-Ligaen this year. In the match against Skeid Fotball Jonatan Braut Brunes was the man of the match for IK Start with two goals. In the first minute of the match, the 21-year old already opened the score with a fantastic strike with his left foot. From around 25 meters he curled the ball in the top left corner. Later in the first half, he doubled his tally. After a good run in the box he received the ball and beat the goalkeeper with a composed chipped finish, which he has shown earlier this season as well. A bit later in the match Braut Brunes showed that he could be even more composed in the box though. After receiving a pass from the left, he took a first time shot with his left foot, despite having a lot of space to take a touch. He was scanning well when receiving passes but could've done better here.
Physically I feel that there is still some room for improvement for Braut Brunes. Standing at 6'2" he looks like he has quite an athletic build but he was still a bit underwhelming in the more physical duels this game. He did well holding up the ball but on a few occasions, he let his opponent get past him too easily before taking his first touch. It was hard to determine if this was purely caused by strength or just intensity in his duels though. Also aerially he could be doing a lot better, mainly his timing looked quite poor. Braut Brunes moved very well though. He looked quite fast with good acceleration on the first meters and was able to turn at high speed. He often dropped back to link up with his midfield and played some good first-time passes but also made some good runs in behind the defensive, showing good versatility. When making his deep runs he did well to start them in his opponents' blind spots, giving him some extra space.
Braut Brunes did very well on the ball against Skeid. He seems to have good technique and because he is two-footed he had a lot more options when he received the ball. He played a lot of good first-time passes but also saw when he had the space to turn and drive the ball forward. The Norwegian striker also showed to be a great team player. Not only was he working very hard the whole game, covering a lot of ground, one moment in this game really stood out to me. In the 82nd minute Start got a penalty, which would win them the game. Braut Brunes quickly grabbed the ball and walked to the penalty spot whilst the Skeid players were still protesting. After around a minute it was time to take the penalty and Braut Brunes selflessly gave the ball to his teammate, who then scored. This is something I've seen some captains in the Premier League do earlier this season, but it still impressed me as Braut Brunes is a lot younger and was on for the hattrick.
Rating – A1
Jonatan Braut Brunes had a difficult season at Lilleström last year in the Eliteserien. He only played the full 90 minutes in the league once and got only substituted in with more than ten minutes left four times. Seeing this performance I definitely think that he could do the job at some teams in the Eliteserien though.
Oskar Fallenius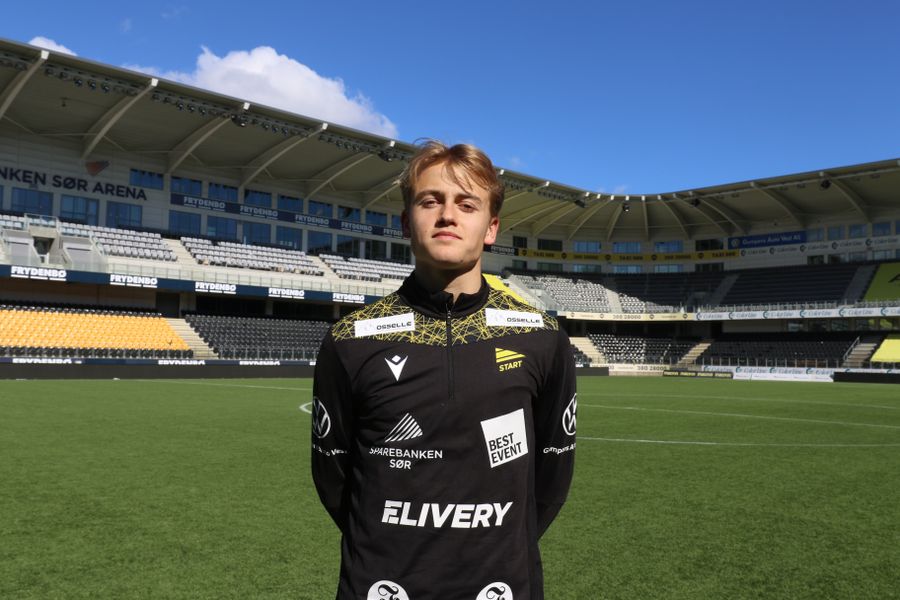 Player Profile:
Nationality: Swedish
Age: 20
Date of birth: 01/11/2001
Current club: IK Start (On loan from Bröndby IF)
Career: Brommapojkarna, Bröndby IF, IK Start (Loan)
Position: Left Winger
Secondary Position: Attacking Midfield
Preferred foot: Right
Oskar Fallenius played as the left winger in IK Start's 3-4-3 formation and had a successful night, assisting both of Jonatan Braut Brunes' goals. The 20-year-old Swede had quite some freedom to roam and was often more positioned as an attacking midfielder than on the left wing. He positioned himself really well, smartly making runs between the lines, and was always trying to be open to receive the ball With left wing-back Tönnessen playing very far forward Start never lacked width on the left if Fallenius moved towards the middle of the pitch. His first pass of the match, which was the assist to the first goal, already showed some of his qualities. He easily turned away from his man, who was pressing quite questionable, dribbled forward and then played a nice pass with the outside of his boot.
Besides his intelligence, his technique is probably his biggest weapon. His first touches were very neat this match and his dribbling looked strong. He didn't use his left foot a lot but he had some nice two-footed dribbles which were very effective. Fallenius also showed great awareness of his surroundings scanning well. Sometimes however his decision-making wasn't quick enough, as he would take a few touches too many and eventually lose the ball.
Standing at 5'1" his physique is one of his weaker areas. Fallenius isn't very strong and was muscled off the ball too easily on a few occasions. One of them could've led to a huge chance for Skeid if they played it a little smarter. He also doesn't seem to have the explosiveness to be able to beat his opponent on pace consistently which makes him more of a playmaker on the left.
Rating – A2
Technically Fallenius could probably play in the Eliteserien but a combination of his nonchalance and physique set him back quite a bit. I'm curious how he develops this season as he is clearly a talented footballer.