PEC Zwolle drew 2-2 with VVV in an exciting match that they edged, with both teams now on 9 points. PEC Zwolle set up in a 4-3-3 with Nakayama as the holding midfielder and the full backs Van Wermeskerken and Paal were given license to get forward at every instance. VVV set up in a 4-4-2, they were narrow and compact, affording PEC Zwolle lots of space out wide.
VVV took the lead in the 21' after the PEC Zwolle goalkeeper dropped a cross at Arias' feet for a tap in 6 yards out. PEC equalised in the 36' after Paal pulled it back from the by line for Pherai to cut across the ball into the bottom right corner. PEC Zwolle made it 2-1 in the 69' after fantastic wing play from Van Wermeskerken, whose low crossed found Van Duinen. The finish was powerful but straight at the keeper who should have saved it. VVV then made it 2-2 with Giakoumakis' outside of the boot, hooked chip passed the keeper.
Ratings:
A1 – Very good, could play higher
A2 – Strong potential to play higher
B1 – Good, strong player at level
B2 – Potential to be strong player at level
C – Average for the level, rewatch
D – Below average in this match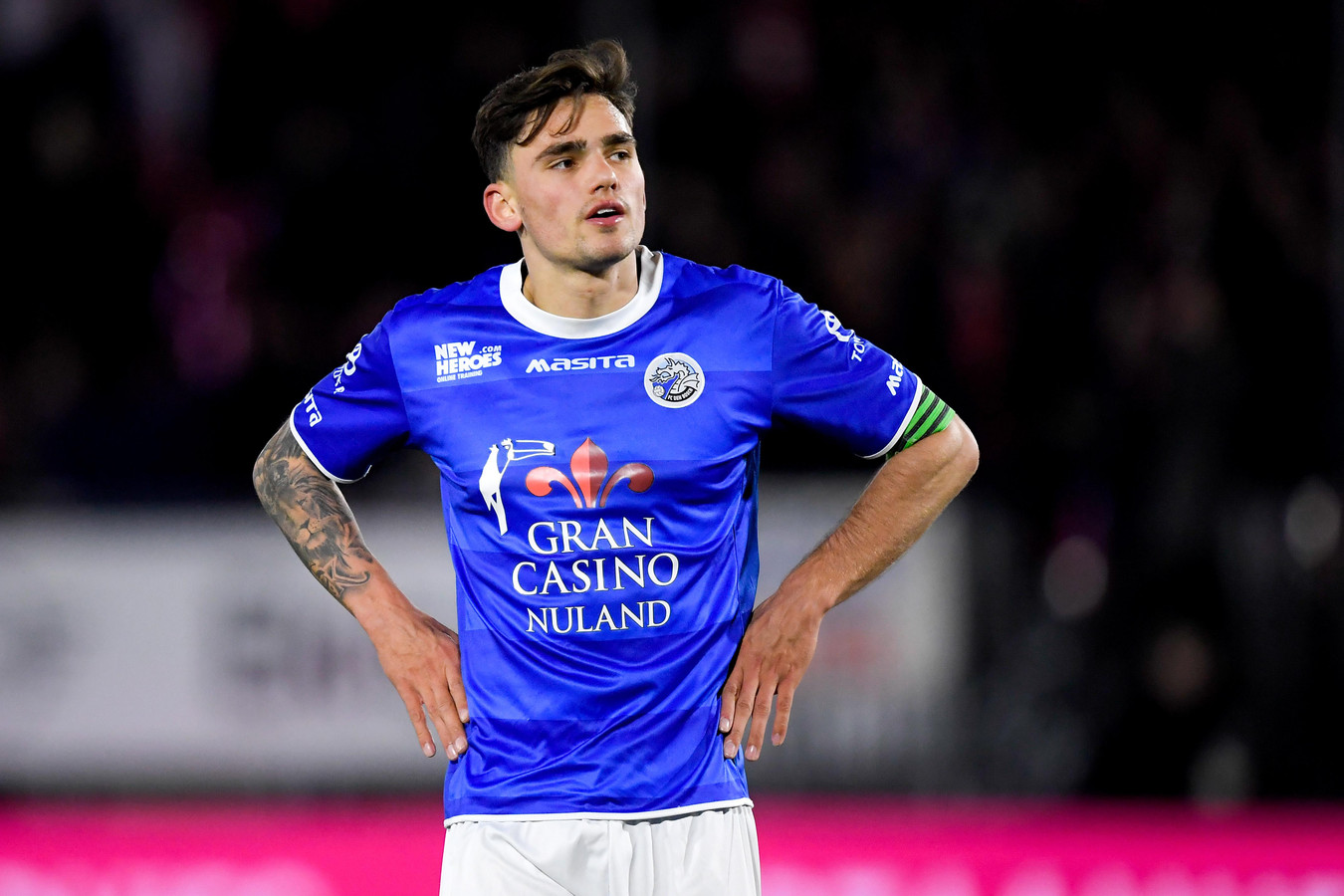 Player Profile
Nationality: Dutch
Age: 22
Date of birth: 30/01/1998
Current Club: PEC Zwolle
Career: Den Bosch (Y), Brabant Utd (Y), NEC (Y), PEC Zwolle
Position: Centre back
Preferred foot: Right
Sam Kersten played as a RCB in a back 4, alongside Lam. He's quite tall at 6ft2 and won his only aerial duel with ease, showing good strength in the process. Defensively he was clever to stay on his feet in the box and force the attacker away from the goal. When he did go to ground, his tackles were clean and he committed 0 fouls. He showed good positioning when they dropped deep into a narrow low block and remained close to his CB partner Lam. He didn't drift much out of position and stayed in the same position on the right hand side just before the half way line. Compared to Lam he wasn't as active or aggressive defensively.
His passing was excellent, and his 87.2% pass completion was the highest of the defenders. His passes weren't always easy options either, with confident first-time balls and some hit with a good whip out wide. Kersten was calm playing out from the back, with a nice, open body position and played with his head up. He linked up well with the RB and was positive to get his team on the front foot.
For the VVV opening goal he did try to head the cross clear just in-front of the keeper, but the ball went over his head and the keeper subsequently fumble it to the attacker. I don't think he was at fault as the keeper should have held onto it. Maybe this was a communication issue and the GK could have shouted for Kersten to let him gather the ball.
Overall, he had a solid game and showed composure on the ball and when defending. During the game he did not step into midfield and try to dribble past any of the opposition, which is something I'd like to see him try. This should then allow him to link up with the wingers when they've drifted inside.
Rating – B2
Player Profile
Nationality: Dutch
Age: 23
Date of birth: 24/06/1997
Current Club: PEC Zwolle
Career: PSV, PEC Zwolle (L), PEC Zwolle
Position: Left Back
Preferred foot: Left
Paal played left back in a back 4. He defended narrow, positioned a few yards inside the box, when in a very low block. He tracked runners well down the wing, making 3 interceptions in the process, showing good awareness to cut out the through ball. This was helped by his good acceleration and pace. He is small but stocky at 5'7″, so unsurprisingly he struggled to win the aerial duels with taller opponents. Despite this, he was competent enough to head the ball clear when unopposed.
Going forward he was very offensive, especially in the first half where everything seemed to come down the left-hand flank. His pace helped PEC in transition and liked to drop the shoulder to faint his movement. His 1v1 skill was however limited, something to work on when he can't rely on his pace buying him a half a yard. He carried the ball well, dribbling well into the opposition half and enjoyed cutting inside, staying on his left, to link with the narrow wingers. In the second half he overlapped more with Reijnders moving to LW at half time, thus keeping more width. In total he made 2 key passes and put in 5 crosses.
For their first goal, he got the assist after tenacious play to control the ball mid air and pull it back by the by line for Pherai to score. I'd like to see him get to byline and in to the box more as his agility can help get his team into goal scoring positions. The right corners were taken by Paal, so were in-swingers, sometimes going short to improve the angle. The delivery was not always the best and sometimes a bit flat.
Paal was hugely involved and his 4 dribbles and 90 touches showed his involvement. When he tucked in narrow in possession it was almost like he was playing LCM, he popped up all over showing interesting positioning when in possession at times. In the game he was afforded lots of time and space, which suited him.
Rating – B1
Player Profile
Nationality: Japanese
Age: 23
Date of birth: 16/02/1997
Current Club: PEC Zwolle
Career: Kashiwa Reysol, PEC Zwolle
Position: Centre back
Secondary Position: Left back
Preferred foot: Left
Nakayama played as the central defensive midfielder in a midfield 3. He was booked in the first 10 minutes after a heavy touch he stood over the players ankle. This would have affected his aggression for the remainder of the game, but he still got into battles in midfield, making 4 interceptions and 3 tackles. Psychologically he adapted his game to make sure he didn't get sent off after being booked so early.
Nakayama was confident on the ball, even pulling off a Cruyff turn in his box, before clearing. He made 6 clearances, more than anyone else. Technically he was fine, playing mainly easy short passes and on the whole pretty safe. He did play a nice pass to switch the play to Paal the LB, which was on every time they were in possession. I'd like to see him play more expansive passes to use the full backs to their full effect.
He was also confident to shoot from distance and had a few from way outside the box. One with his left foot moved in the air and forced the keeper to parry it and the striker nearly scored. Nakayama should have scored with a header from a free kick, after a well-timed run he headed over from 6 yards. He has a great long throw to the 6 yard box, which could create some goal scoring opportunities. For attacking corners he stayed back.
He also showed good positional awareness to cover his full backs when they attacked and helped the RCB when defending down the channel. This was particularly important as their full backs were their biggest attacking threat, so PEC Zwolle do need adequate cover. Despite being listed as 5'11 he looked a lot taller and showed a good leap when heading the ball, winning 9 areal duels in the process, either to pass or clear the ball.
Overall, he played well and helped to control the tempo, in a game PEC Zwolle were comfortable in. Nakayama seems to be a very confident player.
Rating – B2